Election day is right around the corner- now's the time for you to make your voice heard!
Election Day is November 8th, 2022 but early voting has already begun. The Town of Fleming has a question on the ballet this year, see the question & explanation below: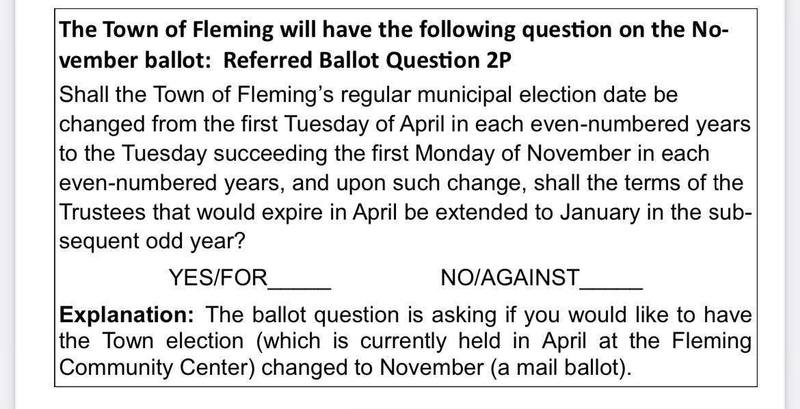 BALLOT INFORMATION:
Ballots are mailed to active, eligible, registered voters: Monday, October 17, 2022 - Friday, October 21, 2022.
Ballot drop-off locations open Monday, October 17, 2022.
Deadline to register to vote by mail, at a voter registration agency, a local drivers' license facility or online and receive a ballot by mail, Monday, October 31, 2022.
Election Office is open Saturday, November 5, 2022 8 a.m. to noon.
General Election Day: Tuesday, November 8, 2022, 7 a.m. – 7 p.m.
All ballots must be in the hands of the County Clerk (Any County Clerk in the State of Colorado) by 7:00 p.m. on Election Day in order to be counted. Postmarks DO NOT COUNT! (Exception - military and overseas voters.)
General Election Day Voter Service and Polling Location is:
Logan County Courthouse, 315 Main Street Suite 3, Sterling, CO 80751
ADDITIONAL LOCATIONS AVAILABLE ON ELECTION DAY ONLY
Logan County Heritage Center, 821 N. Division Ave., Sterling Logan County Extension Office, 508 S. 10th Ave., Sterling Tuesday November 8, 2022, 7:00 a.m. to 7:00 p.m.
For more information about Logan County Polls here: https://logancounty.colorado.g...